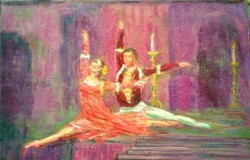 13.
Juliet enters dressed in white, a picture of purity and innocence.
14.
Friar Lawrence performs the marriage ceremony.
Scene 3 - The Square
15.
Mercutio and Benvolio join in the dancing. The merriment is threatened when Tybalt appears. As the dancing continues Mercutio and Tybalt eye one another menacingly.
16.
A high spirited Mercutio rushes at Tybalt. Romeo appears and attempts to intercede. Tybalt and Mercutio fight, and Mercutio is mortally wounded.
17.
To avenge Mercutio Romeo duels Tybalt. It's a fight to the death - that of Tybalt.
18.
The Montagues gather to mourn Tybalt's death, and swear revenge. A Cortege bears Tybalt's body away.