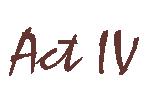 Scene 1 - A Churchyard: The Capulets' Tomb
29.
Originally expecting to attend a wedding, the Capulet family and Paris' entourage gather to mourn Juliet.
30.
Funeral procession with Juliet's body.
31.
Romeo appears, unaware of the scheme hatched between Lawrence and Juliet. He despairs at Juliet's 'death' and kills himself.
32.
Juliet awakens. Still groggy from the potion, she rejoices in the plan's success - until she sees Romeo's body. Unable to contain her grief, she stabs herself and embraces Romeo as she dies.